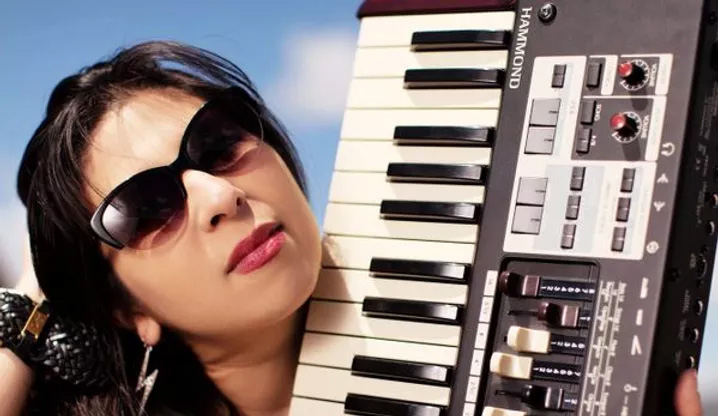 Before the Hammond Organ, the Keytar, the micro controllers, the mic, the flashing lights, there were always the songs Emiko wrote.
Written under the dining room table when she was six, then moving to various studios around the US, Japan and Europe, and finally settling in L.A., Emiko has what can only be called a "whoppingly paramount" catalogue of over 3,000 songs including #1 pop songs, funk, R&B/soul songs, full theater and film scores, J-pop, and so much more. Deeply rooted in classical music, Emiko began her career at the tender age of just two and a half, retiring as a traditional classical pianist by age 12.
This impressive catalogue of 3,000 songs has been put to good use; recognized by the Songwriters Hall of Fame in her early 20's, it was clear Emiko would make her mark as a songwriter, performer, and composer for film and television. She's graced the pages of Billboard, Music Connection, FM Sound, Keyboard Magazine, and countless other publications as an award winning songwriter for SONY/ATV, Universal Music Group, InGrooves, Fontana, 37 Records/McJames Music Publishing, and HAUS Music Publishing.
Emiko has toured across the globe, performing with legendary acts such as Jackson Browne, Chris Barron (The Spin Doctors) Keb Mo', and most recently, played keyboards for Cyndi Lauper in her latest music video, "#HOPE."
Emiko's songs have hit #1 spots on radio charts and fan charts across the world and her concerts have had celebrity and foreign dignitaries in attendance. Most recently, Emiko's music videos have caught on like wildfire through Viacom network platforms (MTV, VH1, FUSE, etc) and Emiko signed on for her first TV hosting and producing role as the co-founder of HTV, Hammond Organ's TV network.
Funny, energetic, engaging, memorable … indescribably unique but as MTV put it, "Emiko is incredible live. She totally sucks you in!" Keyboard Magazine has said "Invoking Billy Preston as much as Billy Joel, synth-slinging Emiko proudly doesn't fit into the "singer-songwriter" box … we expect to hear a lot more from her in the coming months."
In 2017, Emiko founded the I BELIEVE YOU Project. Inspired by the song off Emiko's EP "Looking at Later" has been called a vital social statement and an opportunity for survivors to come together, heal, get the truth out, and offer others strength so that their voices may be counted. Shining a light on survivors of sexual assault, harassment, abuse, etc., The I BELIEVE YOU PROJECT and music video (which has already caught the attention of BuzzFeed, New York Times' reporters, and made the front page of local/regional publications in the Southern California area) is committed to building bridges between survivors and the law enforcement/judicial communities to create lasting positive change through cultural and policy reform so sexually violent perpetrators are brought to justice more swiftly, and most importantly, survivors are not re-victimized within the system, but instead believed and their cases treated with urgency, transparency, compassion, and ultimately given the support they so desperately need.
This has led to the 2018 I BELIEVE YOU Tour, which kicks off in the Spring, and will take the band all over the US and to Asia.
Presently, Emiko lives in Los Angeles and spends her time writing words that rhyme and music that sounds good singing to the feral cat next door, whom she has befriended and affectionately named Sundae.