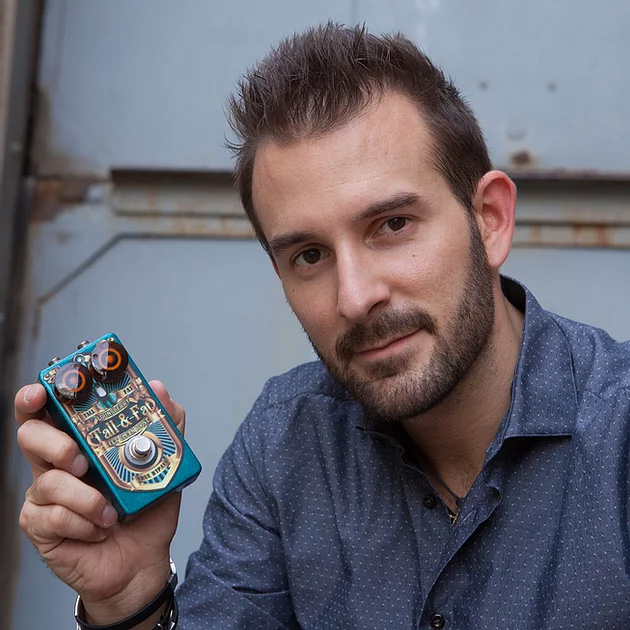 "Hammond clones and Leslie simulators never felt so real! The "Tall & Fat" pedal gives my Hammond sound the warmth I could not get in any other way. it is the perfect companion of my Neo Mini Vent Leslie simulator, making the sound real and crispy at the perfect point. Light and easy to use, the " Tall & Fat" brings the sound of your Hammond clone to the next level."
Luca Chiellini is a Hammond B-3, piano, keyboard player and singer based in Chicago.
Luca tours with Alligator Records artist Toronzo Cannon, appearing
worldwide in the most important Blues Festivals as a member ofToronzo's band "The Chicago Way".
The tour supporting the album "The Chicago Way" brought the band on tour all over the USA, Canada, Europeand Central America. Chiellini serves also as a tour manager in Cannon's band.
Luca Chiellini is a Hammond Organ USA artist. He's also endorsed with the prestigious Mogami Cable by Marshall, Radial Engineering, Lounsberry Pedals, Konig & Mayer Stands and Gator Cases. Chiellini performed at the Winter and Summer NAMM shows 2018 demonstrating for Lounsberry Pedals (see video below).
Luca Chiellini performs as a solo artist on piano and vocals and with his own Blues/Soul Band.
He performed on the European Blues Cruise (EBC) 2018 as a solo artist and as band director performing with Carl Weathersby, Liz Mandeville, Norah Jean Bruso, Wayne Baker Brooks and Toronzo Cannon. The EBC 2018 is the only blues cruise outside the USA and it was sold out; Chiellini's solo piano bar received critical acclaimed by the audience of the cruise.
He also performed as a solo artist in Genova at the Crazy Bull at the official opening party of the EBC 2018, alongside with Rip Lee Prior and Grammy-Award nominated artist Fabrizio Poggi.
As a solo artist, Chiellini performed at the prestigious Festival Internazionale del Teatro Romano 2018 in Volterra, Italy. The sold-out show took place in an ancient Roman Theatre from the 1st century, one of the most important in the world.
On the day of that show, he released his single "Warm Heart" from his acoustic project.
Chiellini's interest in the African-American and contemporary music brought him to the United States from his country of birth, Italy. His music explores the Blues, Funk, Soul, Gospel and R&B, focusing on the Hammond B3 and the vintage keyboards like Fender Rhodes, Wurlitzer and the Hohner Clavinet. High energy on stage is what best describes his approach to music.