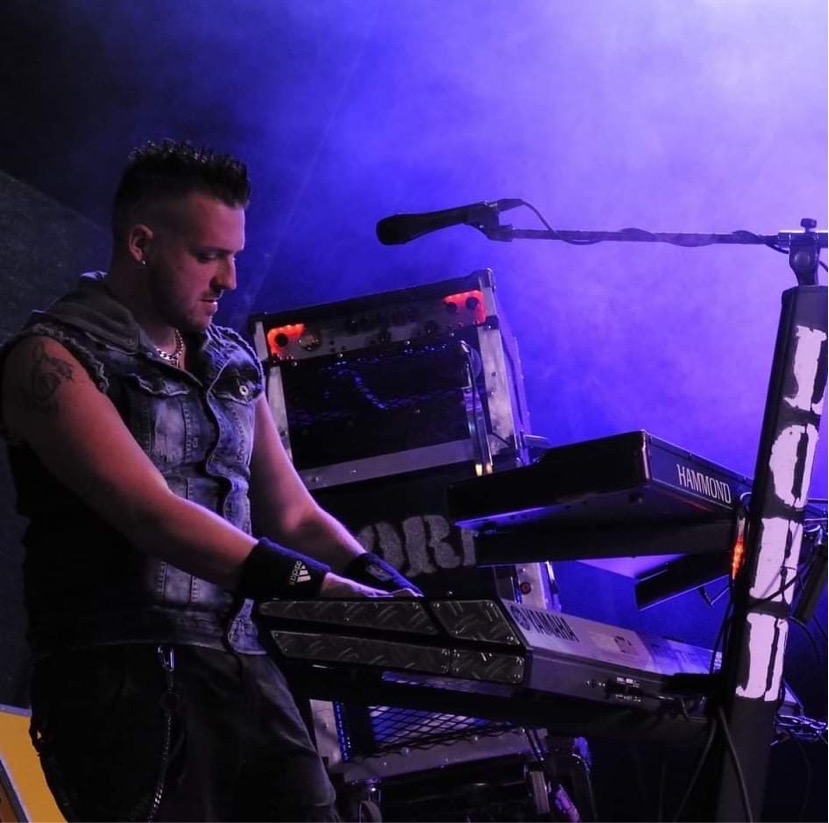 Marco "Lord" Cossu is a rock keyboardist, hammond player, singer and music teacher from Sardinia (Italy). When he was 7 he played a little keyboard just for fun, finding out his ear for music and knowing music would be with him all life long. Determined to follow this path, he took lessons from a conservatory graduate teacher, and the first live experiences came out.
In 2000 a flash of inspiration: by sheer coincidence, a friend borrow him "Made In Japan" by Deep Purple and, in this very same occasion, this friend let Marco try an amazing Hammond L100!!! Therefore Marco chose that it would be the instrument he'd like to play for the rest of his own life: the one and only Hammond organ. He followed the style of Maestro Jon Lord and of many other keyboardists of the same era, like Ken Hensley, Keith Emerson, Rick Wakeman.
He was very young, and given that he couldn't afford a real Leslie Speaker, but his spirit and his strong desire to get closer to landmark keyboardists sound he loved, led him to build a rotary speaker with his own hand (which still works nowadays and every live makes use of it), paired with his first Hammond, an XB1 model which gave him enormous satisfaction.
In 2004 he became part of a local band line up, In Rock Deep Purple Tribute, a still active band; from now on Marco "Lord" could let himself drag in endless improvisations, exploiting his Hammond at the top, in very Jon Lord style, and his vocal extension singing Glenn Hughes vocal parts.
The latest years have been absolutely fertile: he is now a proud owner of a wonderful Hammond SK1, keeping his activity with In Rock Deep Purple Tribute band and he got onto Evergreen line up, a band featuring music teachers: Yan and Brian Maillard, Sergio Calafiura and Fabio Talani (Evergreen is renowned as one of the most important band in Sardinia). Marco works together with local bands as session musician and advisor. He also accompanied very important artists in some clinics: Russel Allen (Symphony X, Adrenaline Mob), Simon Fitzpatrick (Carl Palmer) and Nazzareno Zacconi (Doogie White's guitarist and session musician). Furthermore, a lot more of collaborations are planned with influential artists.
In 2017 Marco creates "La casa del Tastierista Pianista" music school, the very first one in Italy, in collaboration with Carlo Porfilio's "Il Paese della Musica", and in the same year he joined the Hammond Family becoming the third "Official hammond artist" in Italy.
He works as a session musician in several projects (Pietro Cottone, Francesco Marras, Inde Place and many other artists…).
In 2017 he becomes the music teacher of Voice Power (Selargius, CA) and the School of music (Gonnesa, SU), and began his collaboration as producer and arranger for various artists and for the PTS record.
In March and April 2018 he make a european tour with the legendary drummer Ian Paice from Deep Purple.
In 2019 he founded the rock organ trio "Tunewheels", a band with deep 70's sounds, with Massimo Saiu (bass) and Williams Rosas (drums).
In August 2020 he plays with the legendary drummer Mike Terrana, guest in Sardinia.