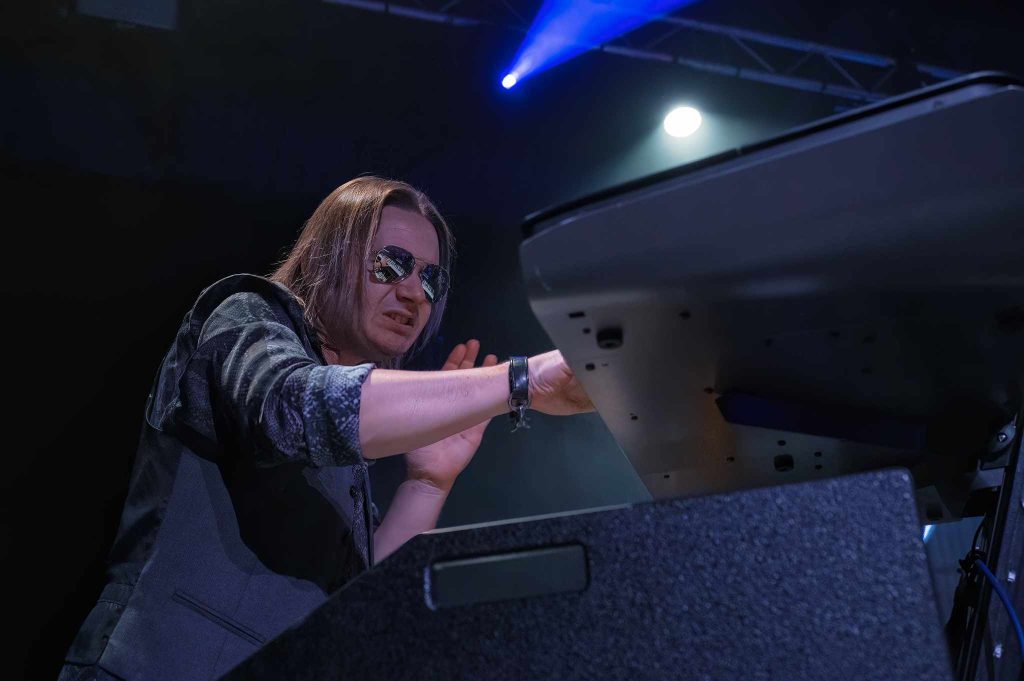 London based keyboardist Danny's biog is somewhat unusual. Having discovered the instrument at a late stage in his early 20s, Danny threw himself into the 'deep', re-listening to the rock and prog greats of the 70s and 80s he grew up with. It was hearing the late Jon Lord with Deep Purple that inspired him to switch from learning jazz and start working in the rock genre. 'I wanted something a little more driving, theatrical, more dynamic and dare I say… louder!' With this objective Danny started his musical training playing with pub and club bands across the country whilst taking composition lessons with The Enid's Robert John Godfrey before meeting his hero Jon Lord by chance at the Roundhouse in Camden 2007.  Further meetings with Jon followed and Danny was privileged enough to then have a series of masterclasses with Jon where he 'Unlocked the secrets to playing the Hammond properly'. In his thirst for knowledge Danny then sought out to get tuition from The Zombies Rod Argent, Uriah Heep's Phil Lanzon and keyboard legend Don Airey 'I kinda just chased these guys down and they agreed to help me out. They liked my bottle and spirit I guess! I owe more to Don, Phil and Rod than they perhaps realise!' With further studies across various genres, Danny began touring with numerous blues/ tribute bands across the UK and Europe and worked the session scene in London. Of note: Danny has played, jammed and worked with Glenn Hughes (Deep Purple, Black Country Communion), Doug Aldrich (Whitesnake, The Dead Daisies, Ronnie James Dio) Gary Moore,  Bernie Marsden (Whitesnake) Doogie White (Rainbow) Harry Shearer (Spinal Tap) Jimmy Degrasso (Alice Cooper Band and Black Star Riders), Russ Gilbrock and Davey Rimmer (Uriah Heep), Richie Faulkner (Judas Priest) and Malcolm Bruce (Son of Jack Bruce) Jimmy Carl Black (Frank Zapper Band) Mark Olbrich,  Russ Ballard and various work with tribute bands including, 24 Carat Purple, Rainbow Rising, A Foreigners Journey, Parallel Blondie, Ozzy Ozzspawn, Blizzard of Oz, (Alice Cooper Tribute) and Van Halen UK. 
Danny is currently the UK/European keyboard player for Graham Bonnet (Rainbow, MSG and Alctrazz) and works with RnB legend Zoot Money in his spare time. 
He also plays with the Deep Purple Family Tree band Rising From The Deep playing the anthems of Purple, Rainbow and Whitesnake. He is endorsed by Korg, Kurzweil and Radial and is proud to be an ambassador for Lounsberry pedals where he uses the Organ Grinder and Tall n Fat in his rig.. 
'Greg's pedals are the real deal… they bring everything you could possibly want tone wise into a small foot print and within a price that was inaccessible until now. The quality is unmatched and Greg's focus on his customers/users individual needs is a major strength of his. He really is one of the greats.'